Aircrafts Level 2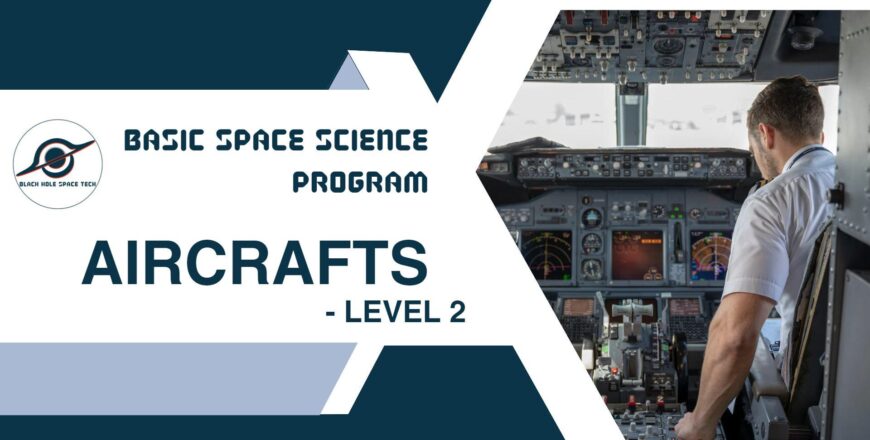 Course Overview: Embark on an exhilarating journey into the world of aircraft with the Aircrafts Course, a specially curated program designed for school students from Class 4 to Class 10. Developed by Black Hole Space Tech as part of the Basic Space Science Program, this course offers two levels of captivating exploration.
Level 2: Advanced Aviation Concepts
Take your knowledge to new heights as you delve into advanced concepts and technologies in aviation. Dive into topics such as aerodynamics, navigation systems, and future aircraft developments.
Course Objectives:
1. Explore Aircraft Types: Gain insights into various types of aircraft, including airplanes, helicopters, and drones, and understand their unique features and applications.
2. Understand Principles of Flight: Delve into the principles of aerodynamics, lift, drag, and thrust, and grasp the physics behind successful flight.
3. Learn Aircraft Design and Components: Discover the intricacies of aircraft design, materials selection, and the various components that contribute to the functioning of an aircraft.
4. Study Aviation Navigation: Explore the world of aviation navigation, including instruments, communication systems, and the use of radar and GPS for safe and efficient flight.
5. Discover Future Aircraft Developments: Dive into the future of aviation, exploring emerging technologies such as electric propulsion, autonomous flight, and supersonic travel.
Join the Aircrafts Course within the Basic Space Science Program and soar to new heights of knowledge. Ignite your curiosity, expand your understanding of aviation, and explore the limitless possibilities of flight with Black Hole Space Tech's expertise!
1
1. Introduction to Aircraft: Discovering the Fascinating World of Flying Machines
2
2. Parts of an Aircraft: Understanding the Structure and Components
3
3. Types of Aircraft: Exploring Different Categories and Their Uses
4
4. How Do Airplanes Fly? Exploring the Principles of Lift and Aerodynamics
5
5. History of Flight: From the Wright Brothers to Modern Aviation
6
6. Famous Aircraft: Learning about Iconic Planes and their Contributions
Be the first to add a review.
Please,
login
to leave a review