Telescope Level 1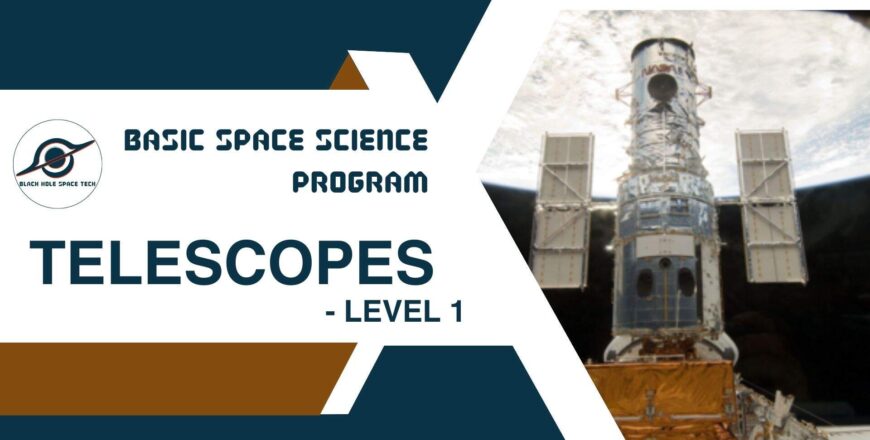 Course Overview: Embark on an exhilarating journey into the realm of telescopes with the Telescopes Course, specially curated for school students from Class 4 to Class 10. Developed by Black Hole Space Tech as part of the Basic Space Science Program, this course offers two levels of captivating exploration.
Level 1: Introduction to Telescopes
Unveil the wonders of telescopes as you delve into their fundamental principles. Discover the different types of telescopes, their components, and how they revolutionized our understanding of the universe.
Course Objectives:
1. Discover Telescope Types: Gain insights into various types of telescopes, including refractors and reflectors, and understand their unique features and applications.
2. Explore Telescope Optics: Delve into the fascinating world of telescope optics, including lenses, mirrors, and focal lengths, and grasp the principles behind image formation and magnification.
3. Learn Observational Techniques: Develop essential observational skills as you explore the art of stargazing, planet tracking, and observing deep-sky objects using telescopes.
4. Study Telescope Technology: Stay up-to-date with the latest advancements in telescope technology, including computerized mounts, motorized tracking systems, and adaptive optics.
5. Understand Celestial Objects: Explore the diverse range of celestial objects that can be observed through telescopes, from planets and stars to nebulae and galaxies, enhancing your understanding of the cosmos.
Join the Telescopes Course within the Basic Space Science Program and embark on a fascinating journey of discovery. Ignite your curiosity, sharpen your observational skills, and unravel the mysteries of the universe with Black Hole Space Tech's expertise!
1
1. Introduction to Telescopes: Exploring the Universe from Home
2
2. Types of Telescopes: Refractors, Reflectors, and Their Functions
3
3. Parts of a Telescope: Understanding the Main Components
4
4. Observing the Moon: Using Telescopes for Lunar Exploration
5
5. Stargazing Tips: Making the Most of Online Telescope Observations
6
6. Famous Telescopes: Virtual Tours of Iconic Observatories
Be the first to add a review.
Please,
login
to leave a review